A unique technique and love for children. Why do gymnasts from all over the world come to Dubna?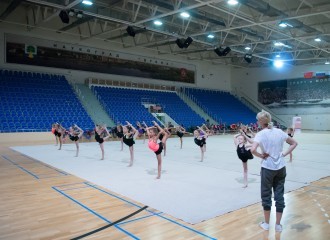 Dubna can become an international training center for gymnasts. More than 150 athletes not only from Russian regions, but also from India, USA, Ireland, Kuwait and Spain came to the summer camp this year in the science city. It's all about a unique technique created by a local choreographer.
During training sessions with Irina Sadyrova, every gymnast, without exception, shows a quick and significant progress. Each recruitment admits from 50 to 100 students. And there are even more people who want to attend - the choreographer from Dubna works according to a unique technique.
After Irina Sadyrova's explanations in the training room, even the youngest children start to understand how to make each specific muscle strain.
"Not all children understand with their bodies, they do not always sense their muscles. When you tell them to do something, they cannot, because they do not understand how to do it. When you approach and correct it with your hands, the body begins to feel the muscles, it is easier for them to reproduce it later", said the choreographer Irina Sadyrova.
Summer camps have become international. Athletes from India, USA, Ireland, Kuwait, Spain come to Irina in Dubna for training. Gymnast Julia, for example, came from England. At first, it was very difficult for her to withstand the rhythm and stress. According to her, her home coach is not so demanding.
"Here you have to strain everything. Each step should be with your toes and knees tight. Therefore it is much more difficult here", said Yulia Antipina.
Girls, especially small ones, have a hard time here. But they do not withdraw: they cry from stress, but they stretch. For the sake of the results, they agree to endure a lot. And the results are not long to come. This is the attractive part. Alyona Bondarenko from the Kemerovo region has taken her second group to Dubna.
"The children love this choreographer so much. She is strict but teaches with love. Therefore, it is difficult for children, but they are doing their best", said the coach Alyona Bondarenko.
The winner of the Russian championship, a resident of Dubna, Ulana Dorofeeva, also trains with Irina Sadyrova. She plans to tighten up the choreography and hone some of the difficult elements over the summer.
"To tighten my back in order to hold on tightly and keep balance, so that I don't let the team down and we all together do the element perfectly", emphasized the gymnast Ulana Dorofeeva.
The best gymnasts in the region, members of the national team, came to the summer training camp in Dubna for these days. The coaches approached the Dubna choreographer with a request to work out in the summer with their students. Five athletes from the national team are preparing for the new season - the next competition will be held in September.
Source:
город-дубна.рф
« back
---