Rhythmic Gymnastics training at Training Camps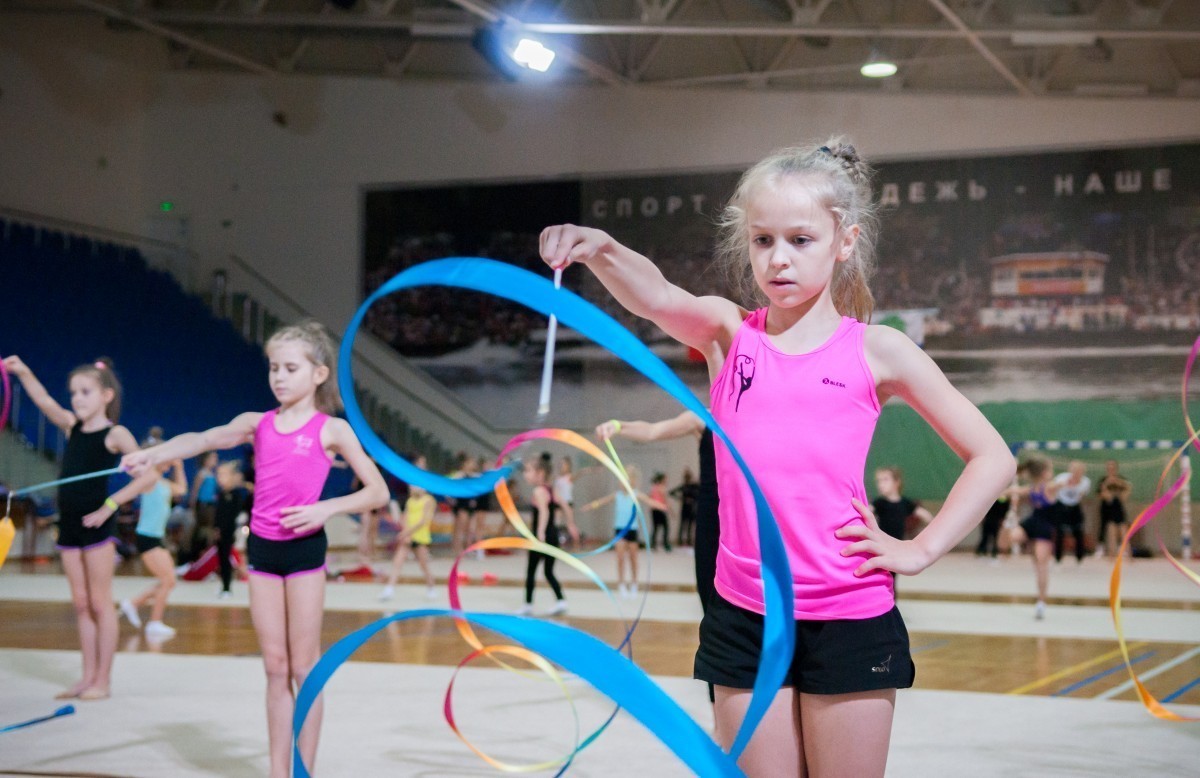 2021-09-28
To achieve results, it is required to train a lot, improve the technique. This is when training camps are involved in the training rhythmic gymnastics for children. They help to master new elements, consolidate skills and gain experience of communication with other gymnasts. They are is also a great opportunity to make the programme more complicated, master new elements, eliminate mistakes and inspire young gymnasts to continue their classes.
Rhythmic gymnastics studies for children are based in sports centers, experienced trainers are involved in the training process.
During the training camps, special conditions are created in order to for the gymnasts to concentrate on improving their performance for several days.
Off-site training is available for gymnasts starting from the age of 5-6. The travelling group is usually accompanied by their coach who helps with living and organizational issues. This is a great experience of independent living, thanks to which gymnasts grow up faster, learn responsibility and discipline. An additional positive effect is achieved by a change of scenery, because training camps are organized in the most beautiful corners of Russia and the world.
An impetus for development, raising skills to a new level,
Increase in complexity and development of competitive programmes,
Exchange of experience with other gymnasts and coaches,
Immersion in the atmosphere, communication with like-minded people,
Proper daily routine, proper nutrition, fresh air,
The opportunity to relax and switch.
How the training camps in rhythmic gymnastics are held?
Gymnasts who have no health problems and no contraindications to rhythmic gymnastics are admitted to participation.
The training programme is formed by the organizer. It can include object handling, working out the elements (turns, jumps, balances), stretching, general physical training. Depending on the programme, gymnasts take objects (skipping rope, ball, clubs, ribbon) with them, as well as weights, rubber expander, and a rug. Requirements for the uniform and inventory are prescribed in the training camp regulations.
Unlike preparatory camps, where the team is invited before the competition, training camps are held for everyone. Gymnasts are divided into groups by age and skill, because the loads for beginners and experienced gymnasts are noticeably different.
The classic training camp programme includes two workouts per day. Such a tight schedule creates conditions for obtaining an effective load, the participants immediately work out and consolidate new elements. The duration of field trainings for children does not exceed 7 days, this is the most optimal period for obtaining information, consolidating skills and eliminating physical and psychological overload.
Training camps for beginners
Should the child go to the training camp if she has just mastered the basics or just not showing progress yet?
Yes, if you need progress. Rhythmic gymnastics for children is a sport for the persevering ones. It is important to keep advancing in rder to achieve results. Even if there are not enough skills yet, training camps are held precisely in order to work out the elements and give an incentive for development.
Yes, if you need inspiration, immersion and motivation. Sometimes such a trip becomes a push that helps the gymnast to open up. One of the most noticeable effects of training camps is psychological. The gymnast starts to better understand her physical capabilities, sees ways for advancing, what to work on, understands that it is possible and necessary to overcome fatigue.
Having returned home after training camps, it is important to continue working on new elements. Otherwise, the progress will not last long.
« back
---